Our Customer Service Policy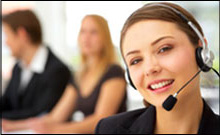 247Lanyards.com accepts all major credit cards. In addition, we accept checks; however, we require the check to clear our financial institution prior to production. For government agencies and accredited schools and universities, we will accept purchase orders.
Our customer service representatives are among the friendliest and most knowledgeable in the industry. They are trained and here to assist with your custom lanyard order. Call toll free at 866-486-3435 or Email us at [email protected] or Click here for a Free Quote.